Capman is second release in the Capsule serie of games, written by Jani Immonen. Object in Capman is to collect capsules to advance to next level.

As many other games, Capman is at it's best playing against other people. Capman has two different game modes, Deathmatch and Eatmatch, which can include up to four players, locally (max. two on one machine), via IPX/SPX, TCP/IP, modem or null modem cable.

Minimum requirements:
100mhz Pentium or compatible
16 Mb ram
4.5 Mb free harddisk space
Windows 95/98
DirectX version 6 or newer
100% DirectX compatible display adaptor and soundcard
Recommended Pentium compatible processor with MMX support.



Check out the original CAPSULE game at Capsule homepage




Contact
Napko Contact email
Distribution
This Game is freeware. So copy, distribute and play it as you wish.
Copyright & Disclaimer

CAPMAN, AND INCLUDED CAPEDIT- LEVEL EDITOR ARE DISTRIBUTED "AS IS". NO WARRANTY OF ANY KIND IS EXPRESSED OR IMPLIED. YOU USE THESE SOFWARES AT YOUR OWN RISK. THE AUTHOR WILL NOT BE LIABLE FOR DATA LOSS, DAMAGES, LOSS OF PROFITS OR ANY OTHER KIND OF LOSS WHILE USING OR MISUSING THIS SOFTWARE.
If you are planning to use this game in commercial release (cover cd etc.), you must have permission from author.
Copyright (c) 1999 Jani Immonen, All rights reserved.







Here is a screenshot from the game;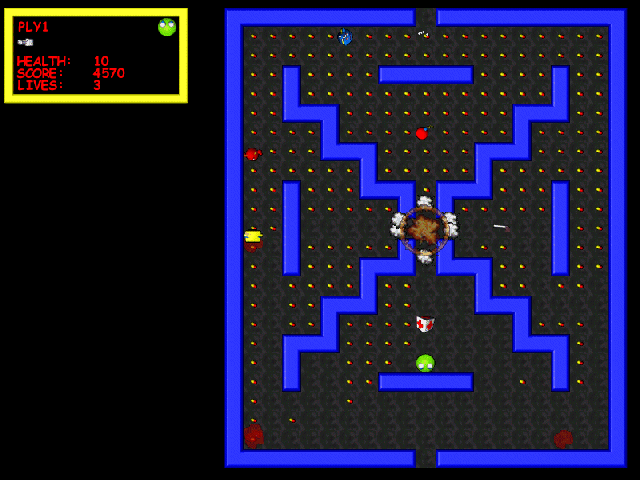 Here you can always download the latest version of Capman.

Current version: 1.01 - 2.77Mb, Updated 4.7.1999

NOTE! Capman package does NOT include needed DirectX drivers. Download newest DirectX drivers from: www.microsoft.com/directx/




Capman101.zip